Mark finishes a 70.3 Ironman in
Branson, Missouri
Mark Lee's Attorney Profile
Mark and his wife Jennifer are the parents of two children Zachary (11) and Isabella (8).  Mark lives in both Chicago and in Springfield. This dual residence is critical for his statewide practice. He is an avid runner and triathlete, and competes in both the Chicago Triathlon and the Springfield Triathlon every year. He recently completed Chicago marathon and the marathon in Athens, Greece.   Mark also enjoys skiing, scuba diving and gardening.   Mark began college as a music major before he switched to a pre-law curriculum. He still plays the guitar daily.
Mark  is an avid sports fan and his family has had season tickets to the Chicago Bears for sixty years and he has been a season ticket holder to the Rams since they moved to St. Louis in 1994.
Education History:
Millikin University, Decatur, IL
Bachelor of Arts – 1984 - Dean's List
University of Idaho College of Law, Moscow, Idaho
Juris-Doctor – 1989 - Dean's List
Bureau of National Affairs Award – Most Satisfactory Progress in the field of Law during the final year of school, Class of 1989

Bar Admissions:
The State of Illinois
Memberships and Professional Associations:
Illinois Trial Lawyers Association
Illinois State Bar Association
Laborers International Union of North America
Lawyers Assistance Program Volunteer
Chicago Area Runners Association (CARA)
Working America Union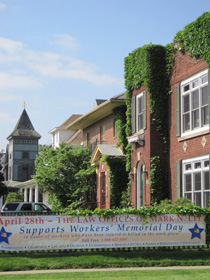 Springfield, Illinois Office
Practice:
The Law Offices of Mark N. Lee opened in 1993 and practices exclusively in the area of workers' compensation and  personal injury. Personal injury cases include wrongful death, automobile accidents, truck accident, defective products cases, legal and medical malpractice cases, dog bites, bicycle accidents and any other legal matters that involve an injury to an individual or groups of individuals.
In connection with cases of permanent disability, our office also handles Social Security disability claims.
Our practice is statewide and we have offices throughout Illinois.  We have litigated cases from Rockford to Benton and all points in between. Please click our on-line news letter for information on recent cases our firm has handled.
Union History:
Mark's great-grandfather, Albert Lee, was an organizing and founder member of Pipefitter's Local No. 597 in Chicago, Illinois.  His brother, Gerald M. Lee, represents the fourth generation of his family to work as a pipefitter out of Local No. 597.
In 1978, Mark's father moved the family from Chicago, Illinois to Decatur, Illinois. He was offered a job working for Illinois Power in the construction of the Clinton Nuclear Power Station.
Upon graduation from high school Mark began work as an apprentice pipefitter at the Clinton Power Station in Clinton, IL, out of Plumbers and Pipefitters Local No. 65 in Decatur, Illinois.
Unfortunately, Mark was not a very talented with the tools.  His father, apprenticeship coordinator and union steward all suggested that he consider a different career; one where he could be more successful.  However, the experience and knowledge Mark obtained by working out of the union and at a large construction site has been essential to his understanding of construction site accidents.
In 2005, Mark was invited to join the Laborers' International Union of North America. Having represented many members of that union and having a close association with all of organized labor, Mark was happy to become a dues paying member of a trade union and show his support not only for that union but for the entire labor movement.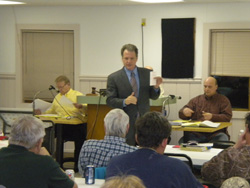 Mark speaking at a union meeting
Union Activities:
Every year, Mark speaks at and attends many union events. These include union meetings, executive board meetings, trade and labor councils and building trade council meetings.
Mark has also walked picket lines with striking workers providing food and drink for those on strike. Previously, Mark has walked the picket lines with striking American Federation of State County and Municipal workers against Decatur, IL, striking Boilermakers at the Celanese Plant in Meredosia, IL and striking union members of the Bakery, Confectionary and Tobacco workers union against Mel-O-Crème donuts in Springfield, IL.
If you are a union member or official and would like Mark to address your meeting please do not hesitate to call.  The Law Office of Mark N. Lee also helps sponsor union activities such as golf tournaments, Labor Day parades and Holiday parties. For golf tournaments, we have golf balls and goody bags for the members. For Holiday parties and labor events, we have party favors as well as placemats with pro-union information.
Legal Career:
Mark was admitted to practice in the State of Illinois in 1990. At that time he was already working as a staff attorney for the Illinois State Legislature. His duties as an attorney for the legislature were to review the different rules passed by Illinois Departments of Government to ensure they complied with the laws of the State of Illinois. One of the agencies whose rules he reviewed was the Illinois Workers' CompensationCommission. This is the state agency that oversees and administers the Illinois Workers' Compensation Act.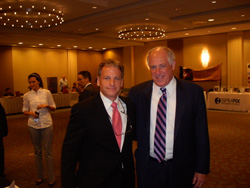 Mark with Governor Quinn
After leaving state government, Mark worked for two law firms, a smaller downstate practice and a large firm based out of Chicago.  The experience and training he received from both of these firms laid the groundwork for the success he has today running his own firm.

Political Campaigns:
In addition to aggressively representing injured workers, The Law Offices of Mark N. Lee supports organizations and political candidates on both sides of the aisle that promote, preserve and defend the rights of working people.