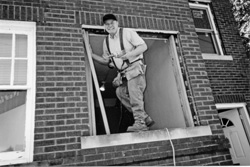 Union Carpenter working at Springfield office
Practice
The Law Offices of Mark N. Lee opened in 1993, and practices exclusively in the area of workers' compensation and the personal injury.  Personal injury cases that include wrongful death, automobile accidents, truck accidents, defective products cases, legal and medical malpractice cases, dog bites, bicycle accidents and any other legal matters that involve an injury to an individual or groups of individuals.
In connection with cases of permanent disability, our office also handles Social Security disability claims.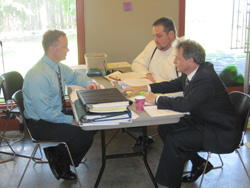 Mark prepares a witness for trial
Our practice is statewide and we have offices throughout Illinois and have litigated cases from Rockford to Benton and all points in between.  Please click our on-line newsletter for information about recent cases our firm has handled.