Jason P. Young's Attorney Profile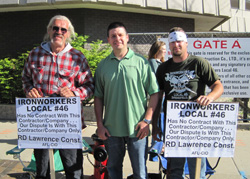 Jason with strikers
Jason was born in Grand Haven, Michigan.  He earned a Bachelor of Arts in Political Science from Michigan State University in East Lansing, Michigan.  After graduating from Michigan State University, he attended law school at Southern Illinois University in Carbondale, Illinois.  While attending law school, Jason was an Assistant Editor of the Southern Illinois University Law Journal.  During the summer after his second year of law school, he had the opportunity to participate in an internship with late Judge Harlington Wood, Jr. of the United States Court of Appeals for the Seventh Circuit.  In 2002, he graduated Cum Laude from Southern Illinois University. 
After being admitted to the bar in both Michigan and Illinois, Jason took a position with the Illinois State's Attorneys Appellate Prosecutors Office where he had the chance to argue several appeals in front of the Fourth District Appellate Court of Illinois.  In 2005, Jason accepted a position as an Assistant Attorney General with the Office of the Illinois Attorney General.  During his tenure with the Attorney General's Office, Jason represented employees of the Illinois Department of Corrections in civil rights claims that included several federal jury trials.  He joined the Law Office of Mark N. Lee in the summer of 2009 and practices exclusively in the area of workers' compensation and personal injury.
During his time with the firm, Jason has successfully litigated cases against many employers including Walmart, Dairy Queen, O'Neal Brothers Construction, Glescoe Electric, and the State of Illinois.